The Hottest Auto Sites on the Internet!

This hitlist is different than most other hitlists you find on the net.

The rank of the sites is based on the average amount of unique visitors they have within the last 7 days.

This means that the ranking is a true sign of popularity and not just a sign of how long the site has been on the list.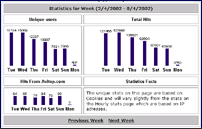 Member Sites enjoy our advanced website statistics !